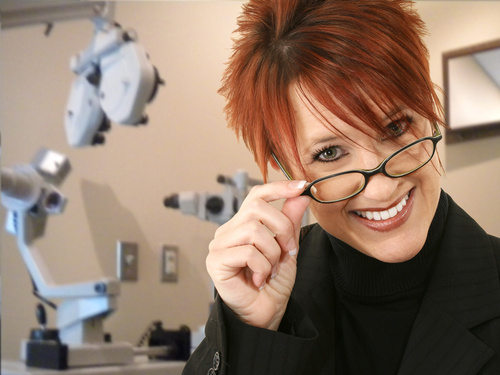 Question: Why do I need Custom Reading Glasses to provide the clearest reading vision?
Answer: Your brain combines what you see in each eye (clear or blurry) to form your reading vision.
Solution: Determine the strength of the lens powers for each eye that provide the clearest reading vision.
Take our Test below & customize the reading lens strength for each eye so both eyes see clearly to read your best!
Custom Reading Glasses Eye Test* *Designed by Eye Doctors
Without reading glasses, position yourself 16 inches away from the computer screen, tablet or smartphone.

Test each eye separately by covering the eye not being tested.

Choose the reading glasses strength Lens Power next to the lowest (smallest) letters you can read easily for each eye.
Next:
(1) Select your Frame Styles & Reading Lens Options.
(2) Enter your Lens Power strengths for each eye.
(3) Submit your Custom Reading Glasses Order!
Reading Lens Options

Thin & Light Reading Lenses We recommend our Light & Thin Reading Lenses when your Reading Lens Powers test above +0.75 for the best natural clear vision, reduced lens weight for comfort, reduced lens thickness to increase cosmetic apprearence. Thin lenses will make your eyes will look their natural size by eliminating thicker heavy lenses that cause excess magnification of the eyes (coke bottle appearence). Thin & Light featherweight Reading Lenses also provide 100% UV protection to protect from the harmful rays of the sun, computers, flourescant lights & mobile devices. Add to order when selecting Frame Styles
Anti-Glare Reading Lenses Adds a anti-reflective lens coating that screens out harmful glare & irritating reflections for clearer & more comfortable reading & computer vision. You can read much clearer without reflections with Anti-Glare reading lenses when using computers or mobile devices. When others look at you, they will see your eyes only & not distracting reflections on your lenses which makes for excellent cosmetic appeal & appearence. Add to order when selecting Frame Styles
Auto-Tint Reading Lenses - Add to order here
Now you can get Thin & Light Custom Reading Glasses that automatically transitions from clear lenses when reading inside to a dark sunglasses tint for reading outside & in the bright sunlight. Customers love the convenience of a single pair of Custom Reading Glasses that they can wear outside and inside without having to take them on & off. Reading Lenses with Auto-Tint change darker by UV Rays which are emitted by the sun, comptuers, mobile devices & flourescant light. Automatic Tint Changing Reading Lenses are a Thin & Light featherweight design.
Custom Reading Sunglasses Tint Add Sunglasses Tint to your Custom Reading Glasses to turn your customized readers into Custom Reading Sunglasses! Read with comfort & ease outdoors at the pool, beach & backyard. Add Sunglasses Reading Tint & Thin Lightweight Lenses for maximum comfort in reading outside & UV Protection. Customers love Custom Reading Sunglasses so they can have the clearest reading vision without squinting when they are outside and in the sun. Many customers buy clear lenses for inside use & add Sunglasses Tint for outdoors. Add to order when selecting Frame Styles
Polarized Reading Sunglasses Clip - Add to order here Add a Polarized Sunglasses Clip with 100% UV protection that is customized to match your Custom Reading Glasses Frame Style shape, size & color! Slide your Sunshades Clip on for outside reading & slide Sunglass Clip off for inside reading. Customers enjoy the convenience of one pair of Custom Reading Glasses to read indoors and sliding on the Sunglasses Clip to provide a sunshade when outside and in the bright sunlight. Sunglasses Clips are available in Polarized Sunglasses Grey Tint & Polarized Sunglasses Amber Tint with 100% UV Protection.
All Custom Reading Glasses Include:
Individually crafted custom made prescription quality opthalmic lenses & frames.

FREE Reading Glasses Case to store and protect your Custom Reading Glasses.
FREE Ultraviolet Protection from sunlight UV rays & fluorescent UV light rays.
FREE Scratch-Resistant Lens Coating reduces damages from scratches
One Low Shipping Price for entire order - Save on multiple pairs of Custom Reading Glasses.
entire order when you BUY 2 OR MORE PAIRS of Custom Reading Glasses!
Frame Styles
Benefits of Custom Reading Glasses
Individually crafted Custom Reading Glasses with quality Rx Frames & Optical Rx Lens quality.

Choosing reading glasses strength in Frames Styles Colors in Wayfarer, Aviator, Cat Eye, Oval, Round & Rectangle shapes.

Choose Lens Options: Thin & Light featherweight Lenses, Anti-Glare lenses, Automatic Tint Changing Thin-Light lenses, Sunglass Tint & Polarized Reading Sunglasses Clip.
Online Reading Glasses Eye Test Chart determines if different lens strength powers are needed for each eye to customize Computer Vision & Reading Glasses.
We use only prescription quality reading lenses but at much more affordable non-prescription discount cheaper prices!
Ultra Light & Thin Reading Lenses reduce weight & thickness & Spring Hinges, soft & flexible temples increase comfort.
Anti Reflective Lens Coating eliminates glare & Tinted Lenses reduce excess light.
Frames Styles in wide array of colors in Plastic,Titanium, Metal, Stainless Steel & flexible materials

Frame Shapes includes Round, Oval, Rectangle, Cat Eye, Wayfarer, Aviator in Full Rim & Half Rim Frames.

Customize Reading Glasses used over Mono Vision contacts with different powers as needed.
How to determine reading glasses strength



What strength of reading glasses do i need? Our reading glasses test online is a reading glasses eye chart and reading glasses strength test to answer how to select reading glasses strength starting at reading glasses .50 strength to answer what type of reading glasses do i need?
Ask if & when do i need reading glasses test with an eye chart for reading glasses for to help find out how strong should my reading glasses are using a reading glasses diopter chart. A reading vision test chart is converted to a diopter test chart for reading so that you determine what strength reading glasses should i get & what power reading glasses are needed.
We make custom reading glasses as non prescription reading glasses crafted customized for reading glasses different power each eye with prescription quality custom made reading glasses frames & lenses. Our custom eyeglasses are affordable if you need custom reading glasses different strength each eye.
---
Guarantee - We guarantee the products will arrive in good condition or we will replace them for the same or similar products within 30 Days.
Terms of Delivery - Typical delivery time for orders is up to 14 business days for your Custom Reading Glasses to be hand crafted & shipped. During times of high volume of orders & manufacturing, delivery time may be extended. Once an order starts the manufacturing process, it is non-cancellable and non-refundable, since the Custom Eyes Reading Glasses are unique for each customer. By ordering your Custom Eyes Reading Glasses you agree to the Guarantee & Terms of Delivery.
Custom Eyes Reading Glasses do not replace the need for annual eye exams, refraction for distance or near prescriptions. Custom Eyes Reading Glasses funcitionally improves near vision using non-prescription lenses and are not meant to be an exact prescription Rx correction. Custom Eyes Reading Glasses are only recommended for reading, computer use or any other near task within arms length and should never be used for driving or in hazardous areas.
Custom Eyes Reading Glasses & Custom Eyes Reading Test are trademarked TM and any duplication of content or website contents is strickly prohibited.